Main content starts here, tab to start navigating
Catering
The Philippe Experience,
Brought to You
For over 15 years, Philippe has provided exquisite cuisine to some of the most noteworthy events, fundraisers and private affairs throughout Manhattan and beyond.
Our catering options are vast and unique. Should we have the pleasure of serving your next event, we assure you of an exemplary experience and that your event is the talk of the town.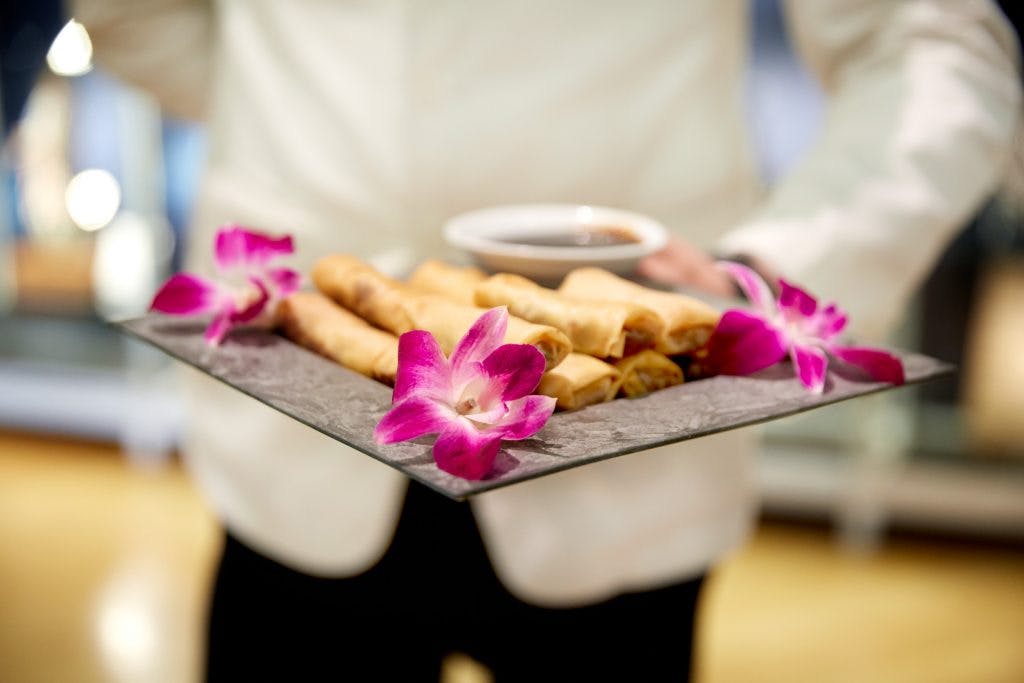 Event Types
Whether you merely need one or more specialty items for turn-key events or you require full-service catering options, our comprehensive range of offerings is flexible and expansive. In our quest to meet any need, we offer passed hors d'oeuvres, food stations, as well as full staffing options. We'll manage every aspect of your event catering — from appetizers through desert — including wine, champagne, and spirits.
The Experience
Regardless of your event's size, we've mastered the art of bringing the on-site experience of our award-winning restaurant directly to you. Beyond an unrivaled culinary experience, our white-glove service team is always dressed impeccably — complete with Philippe jackets, white collared shirts, ties and pocket squares. Should you seek to amaze, Chef Chow himself will carve his signature Peking Duck and serve it to your guests.
Locations
For 15 years, Philippe has been impressing clientele throughout New York, New Jersey and Connecticut. From intimate dinner parties to large events with over 500 guests we deliver quality service and food in style. We will travel to your home, private jet or an event space to provide the impeccable food and service offered to events of any size within our restaurant.
Custom Menus
We offer a wide range of savory options to fit any budget, compliment any style, and enhance the vibe in any venue. We're unwavering in our commitment to bring you the same culinary delights you'd experience if you were seated in the center of the Philippe dining room.
Catering Accolades
* * * * *
"The Philippe staff and operations were turnkey and very accommodating. From ordering, set-up, keeping displays looking pristine and proper, to attending to my guests' every need."
MICHAEL FELDMAN, PRESIDENT, DAVID FELDMAN WORLDWIDE
* * * * *
"We've used Philippe Catering for several events throughout New York City and have never been disappointed. The level of service and the quality of the food is always a cut above."
TRAVIS OWEN, MANAGER, ONBOARDING & TALENT DEVELOPMENT, BALYASNY ASSET MANAGEMENT L.P.
* * * * *
"Phillippe's attention to detail, flexibility and exemplary service -- from pre-production to onsite -- was superb. Our experience overall was stellar and we would recommend using Philippe catering for any future event or function."
MAYA KATZ, PARTNER, ALIMAY EVENTS
* * * * *
"I have used Philippe to cater multiple events, both formal small sit-down dinner, and bigger cocktails parties, and the guests are always blown away by both the quality of the service and the food. I've even had Chef Philippe in my living room carving duck, which ended up being the main attraction at my event!"
PERRI BROOKE BRENNER, EQUITIES, BARCLAYS CAPITAL